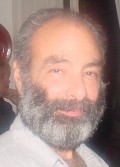 This is the page where you can

click on my self-disclosure, if that is why you are on the ABOUT page.
If you are seeking my RESUME click here for instant gratification.
It's also an appropriate place to mention that 2011, when this web site first came together, was the 30 year anniversary of the birth of my computer fascination.   I still have my old

Apple II from 1981 packed away, kind of like saving my first baseball glove.   I didn't exactly know back in 1981 that 30 years on I would be living in the middle of the World Wide Web.   But maybe I sort of did know, and that's why I spent all those hours back then playing with code, something that was a fairly unusual pastime in that era. I hope to document that amazing time, now that we are safely arrived here in the future.   And if you're wondering how I actually came to create this web site, which is appearing like absolute magic on your screen, it's all explained when you click right here.
At the very least, I need to mention here that all images on this site are my own, and that all media found here are created entirely by me, except for what is explicitly credited otherwise.
Contact
Visitors can 'Leave a Reply' on most pages; I promise to review comments and answer by email if appropriate.
I'm working on integrating this site with Facebook; I can also be contacted there.